Home
Stop Press. Quiz night arranged for Saturday 5th February 2022, please come and put your name down at the clubhouse if you wish to attend.
As of Monday 3rd January 2022, this statement has been released by management.
Hi all, the Management Committee have reviewed the need to keep the Clubhouse closed for the normal 'week to week' social activities and we have concluded that the normal activities namely, Monday evening night owls, Friday evening darts, Sunday lunchtime drinks and the 2nd and 4th Thursday of the month whist drives can restart with effect from Sunday 9 January 2022, provided that no Government restrictions are imposed beforehand that prevent us from doing so.
Although we recognise that the Omicron strand of the virus is very contagious the amount of people attending these events is relatively low. We would urge everyone that attends to be as careful as they can and take any precautions they feel appropriate. It is strongly recommended that during each session the top windows above the patio doors are opened, with the ceiling fans on and that the newly installed extractor fans are turned on to ensure the best air circulation is available.
If anyone is on the bar rota and feels that they do not wish to attend the club in the current circumstances can they please contact Angela Amura on [email protected] and let her know so that a replacement can be found. Equally, if anyone due to open and lock up the club feels they cannot attend then please let me know with the dates that cannot be undertaken.
Best wishes
Don
PLEASE NOTE. The season for outdoor bowling is now closed and will restart in April 2022, however their are many social events to look forward to during the winter down the club.
New members are our future and we welcome experienced bowlers and novices alike, we welcome all ages. To ensure those new to bowling don't sit on the sidelines we run a full tuition programme from our two qualified coaches, and it's free to people who go on to join the club.
About the Bowls Club
All this time we have played in our idyllic setting, overlooked by Whitstable Castle and its glorious grounds, which merge seamlessly into the carefully tended gardens that surround our green. Established in 1936, the club has now been here for 84 years. We are literally a stones throw from our wonderful seaside location.

We are delighted to welcome our guests and visitors into our well appointed clubhouse.

The town of Whitstable is renowned for good food and at our club we are proud to have built a reputation among visiting clubs for the quality of the refreshments we provide and the warmth of our hospitality. Whitstable has much to offer the tourist so many visiting clubs arrive early in the day to visit our town to sample our local delights before their game. .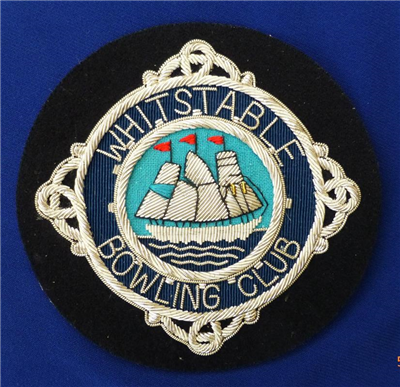 Affiliated to Bowls England, KCBA, KCWBA